The FIG have rejected North Korea's appeal: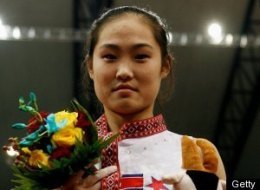 The arguments and explanations provided do not justify a reconsideration of the provisional decision made by the President of the FIG Disciplinary Commission.
Consequently, the suspension, which was announced on 6 October 2010, will not be lifted. The Gymnastics Association of the Democratic People's Republic of Korea (PRK) is not allowed to compete at national and international levels.

According to the procedure, the FIG Disciplinary Commission will meet in the near future and will invite the parties to a hearing, before finalizing and delivering its conclusions to the FIG Presidential Commission.
North Korea filed for an appeal on October 11th against the chosen disciplinary procedure , it was rejected today by the FIG. Fantastic news.. but when will we find out what age gymnast Hong Su Jong really is!