The FIG has come down hard on North Korea for the latest age falsification scandal. Disiplinary procedures have been initiated against the Democratic People's Republic of Korea (PRK) and the gymnast involved, Hong Su Jong. The FIG have banned the North Korean Gymnastics Federation from entering international and national competitions for 30 days. As this is effective immediately, North Korea will not be eligible to take part in the upcoming World Gymnastics Championships in Rotterdam.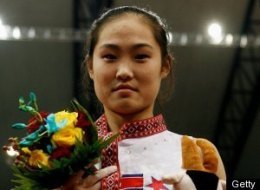 You may have read the story that has unfolded over the past couple of weeks. When submitting competition entries, PRK have provided the FIG with 3 different date of births for Su Jong:
2004 Olympic Games Athens, birth date: 09.03.1985

2006 FIG World Championships Aarhus, birth date: 09.03.1985

2006 Asian Games Doha, birth date: 09.03.1986

2007 FIG World Championships Stuttgart, birth date: 09.03.1986

2010 FIG World Championships Rotterdam, birth date: 09.03.1989.
The Federation have the right to an appeal within the next 5 days but I think it's unlikely they'll try after all it's not the first time that Korea have been banned from competition. Questions were asked in relation to age falsification in 1993.
To prevent age manipulation, the FIG last year began requiring all junior and senior gymnasts who represent their countries at most international competitions to have a license. The licenses include the gymnasts' name, sex, country and date of birth, and are their proof of age for their entire career so it's great that it's starting to take effect. I applaud the FIG for coming down so hard on PRK, it's about time that the age scandals stop.